Families enjoy 'Fun-tastic Day' for wellness with Community Living Huntsville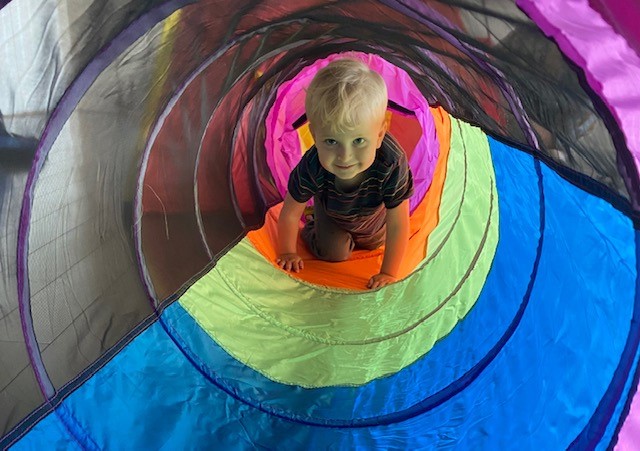 It was a day of fun, new experiences with purpose for families in North Muskoka.
"We had a wonderful day!" said one mom. "We had a great time. Thank you for inviting us."
Community Living Huntsville's Children and Youth Services team, in partnership with More Than Just Art co-owners Diane and Gord Finlayson, yoga instructor Lucy Stapleton, and Huntsville Public Library, invited children and families it supports to its Fun-tastic Day event in July 2022.
The day, held at More Than Just Art in Huntsville, focused on supporting well-being, mental health, and community building through creative and collaborative activities, and physical and mental wellness sessions. Children had a welcoming and safe space to engage in activities both independently and together, while parents had their own sessions and networking opportunities, too.
"We wanted families to join us for an in-person event to have some fun, to introduce them to some activities available in our community that they may not have tried before, and to give families some strategies to take care of themselves and their well-being," says Stacey Bullock, Manager, Children and Youth Services for Community Living Huntsville. "COVID has stretched everyone's coping abilities to the limit – particularly parents and children. We wanted to offer them some fun and new experiences to alleviate some of that stress."
There were paint, movement, and Lego activities for kids, as well as paint and restorative yoga activities for adults, plus a family mindfulness session.
Children and families also had access to a quiet corner stocked with book bundles from the public library, if they felt they needed a bit of a break.
People who attended expressed gratitude, calm, and a sense of accomplishment during a day many described afterward as fun, informative, inspiring, and connective.
"This was the best party I've ever been to!" said one child, who enjoyed not only the activities and friendship, but also the decorative balloons on hand.
It was a moving experience for the adults, too. For example, a mom said at the end of a yoga session she wanted to get up and hug the instructor – she had never practiced yoga or mindfulness before and had not felt an opportunity to be still and mindful until that moment.
"The emotion of the day (was) overwhelming for me and I am so pleased to have been part of this amazing day with you all," added event partner Diane Finalyson.
Gwen Jones, a Family Support Worker with Community Living Huntsville, closed the event by reading a poem, Advice from a Tree by Ilan Shamir. The poem reminds listeners to dig deep, find their strength, take chances, be flexible, enjoy simple pleasures, and celebrate life.
The poem, after a day of connection and reflection, held the audience rapt.
Community Living Huntsville offers Resource Consultant services for children ages 18 months to 6 years, who have a developmental delay or are at risk of developmental delay, and their families, Family Support services for children ages 6 year to 18 or 21 years, who are diagnosed with developmental disabilities, and their families, and Respite Coordination services for families with children. Learn more about our Children and Youth Services at clhuntsville.ca.
Community Living Huntsville is a not-for-profit, registered charity that supports and advocates alongside people with developmental disabilities to live, work, and play in unique and purposeful ways in North Muskoka. Find more at clhuntsville.ca or follow @clhuntsville on Facebook, Instagram, Twitter, Linkedin, and TikTok.