Join a Fundraiser
Learn more about our current fundraisers and events, plus fundraisers and events hosted by community partners and supporters, below. Want to create your own event in support of Community Living Huntsville? Check out our Create a Fundraiser page. 
Tom and Winnie: Art, Mystery and Tragedy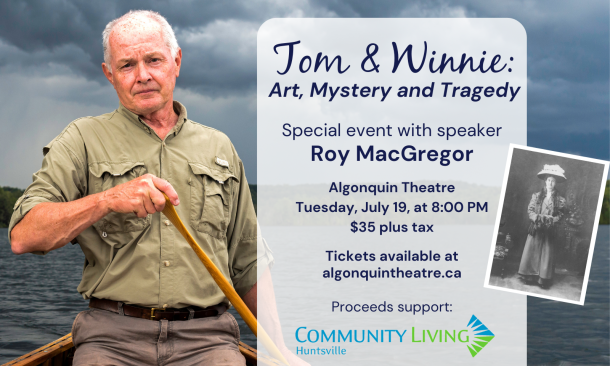 Join us for Tom and Winnie: Art, Mystery and Tragedy, a special event with speaker and renown author Roy MacGregor at the Algonquin Theatre, 37 Main Street East, Huntsville, on Tuesday, July 19, at 8:00 PM. MacGregor re-examines the mysteries of Canadian artist Tom Thomson's life, loves and death, in this non-fiction up close and personal presentation.
Tickets are $35 plus tax. Proceeds support Community Living Huntsville. Visit algonquintheatre.ca for more event information and to purchase tickets.
Chuck It for Charity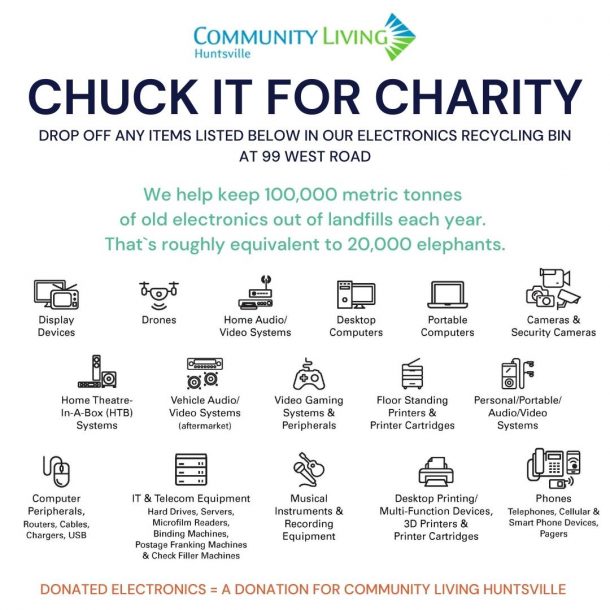 You got it, we want it! Did you know Community Living Huntsville, 99 West Road, is a local electronics recycling depot? And it's free!
Drop by and drop off your unwanted electronics in the green electronics bin outside. You tidy up your home, cottage, or business, and you help our not-for-profit organization raise funds. Chuck it for charity today!
Accepted items include:
Display devices (like televisions)
Drones
Home audio and video systems
Desktop computers
Portable computers
Cameras and security cameras
Home theatre-in-a-box (HTB) systems
Vehicle audio and video systems (aftermarket)
Video gaming systems and peripherals
Floor-standing printers and printer cartridges
Personal and portable audio and video systems
Computer peripherals, routers, cables, chargers, and USBs
IT and telecom equipment (like hard drives, microfilm readers, binding machines, etc.)
Musical instruments and recording equipment
Desktop printing and multi-function devices, 3D printers, and printer cartridges
Phones (like telephones, cellular and smartphone devices, and pagers)
Questions? Contact Sharon at 705-789-4543.
Questions?
If you have questions about any of the events above, or about how to get your event included, please contact:
Jennifer Jerrett
Jennifer.Jerrett@clhuntsville.ca
705-789-4543, Ext. 241