Join a Fundraiser
Learn more about our current fundraisers and events, plus fundraisers and events hosted by community partners and supporters, below. Want to create your own event in support of Community Living Huntsville? Check out our Create a Fundraiser page.
---
Chuck It for Charity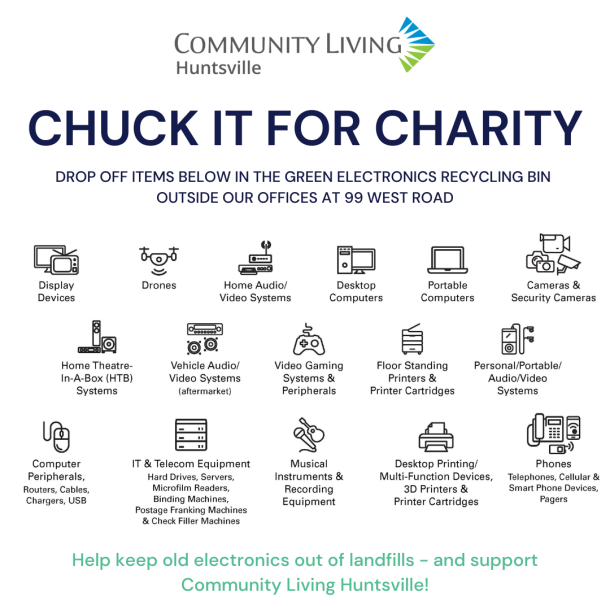 You got it, we want it! Did you know Community Living Huntsville, 99 West Road, is a local electronics recycling depot? And it's free!
Drop by and drop off your unwanted electronics in the green electronics bin outside. You tidy up your home, cottage, or business, and you help our not-for-profit organization raise funds. Chuck it for charity today!
Accepted items include:
Display devices (like televisions)
Drones
Home audio and video systems
Desktop computers
Portable computers
Cameras and security cameras
Home theatre-in-a-box (HTB) systems
Vehicle audio and video systems (aftermarket)
Video gaming systems and peripherals
Floor-standing printers and printer cartridges
Personal and portable audio and video systems
Computer peripherals, routers, cables, chargers, and USBs
IT and telecom equipment (like hard drives, microfilm readers, binding machines, etc.)
Musical instruments and recording equipment
Desktop printing and multi-function devices, 3D printers, and printer cartridges
Phones (like telephones, cellular and smartphone devices, and pagers)
Questions? Contact Sharon at 705-789-4543.
---
Buy a Cookbook!
Get a limited edition Community Living Huntsville "From Our Kitchen to Yours" cookbook! Filled with good, healthy, easy and cost-efficient recipes contributed by people we support, families, staff, and community members. Printed in 2008.
Proceeds will go toward our Helping Hands Fund (formerly called the Dream Fund), which helps people and families we serve access unfunded items, activities and services they cannot otherwise afford. Cost $10. Limited number available.
Order yours by e-transfer to info@clhuntsville.ca and include "Cookbook" and your name in the message section. Or drop into 99 West Road reception to pay by cash or cheque.
Questions?
If you have questions about any of the events above, or about how to get your event included, please contact:
Jennifer Jerrett
Jennifer.Jerrett@clhuntsville.ca
705-789-4543, Ext. 241