Community Living Huntsville Drop-In Career Fair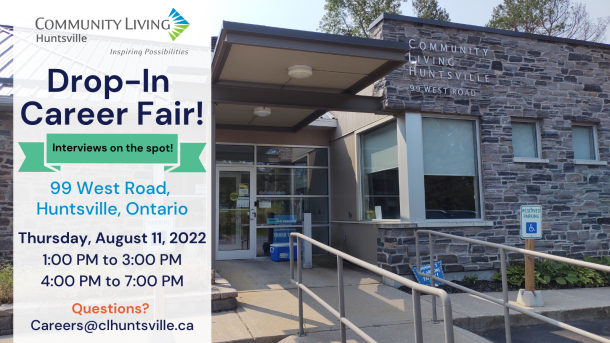 We're hosting a drop-in career fair for Direct Support Professionals at our office, 99 West Road, Huntsville, Ontario, on Thursday, August 11, at 1:00 to 3:00 PM & 4:00 to 7:00 PM! No RSVP needed. Interviews on the spot! Bring your resume! Please note: a 2-year diploma in a Human Services field is needed.
Come learn more about Community Living Huntsville and how you can champion meaningful change in your community with a career in Developmental Services.
We offer part-time and full-time positions with employer-paid benefits, vacation, and sick time, ongoing training and professional development opportunities, a robust employee and family assistance program, opportunities for advancement, and more. Join our team for rewarding work in a positive and collaborative team environment!
Check out the Join Our Team page on our website or contact Lisa at careers@clhuntsville.ca or 705-783-1816 for more information.
Note: can't make it to our drop-in career fair? RSVP for our virtual hiring event happening online Tuesday, August 9, 2022, or contact careers@clhuntsville.ca anytime.