Golf Fore Inclusion 2023 a hole-in-one for community in North Muskoka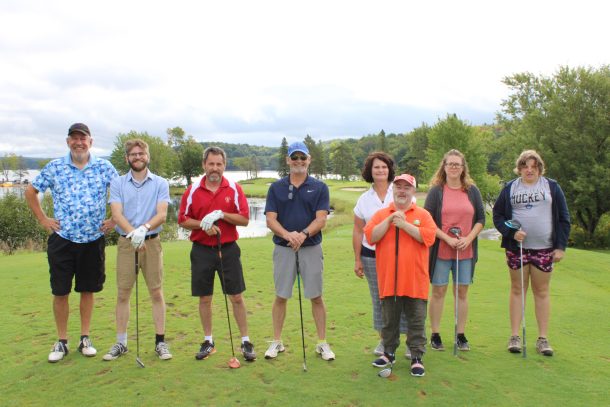 An overcast sky and threat of rain didn't dampen the fun at the second annual Golf Fore Inclusion tournament in Huntsville.
Community Living Huntsville hosted the sold-out all-abilities tournament at Deerhurst Lakeside Golf Course on September 7, 2023. Sixteen teams of golfers, with and without disabilities and a range of golfing skill, took to the course for a friendly nine-hole round followed by lunch, fellowship, and prizes.
Golf balls and laughter filled the air as players descended on the course.
Jason Dodds, a tournament participant, avid golfer, and community member who accesses Community Living Huntsville's services, said afterward that not only was his golf game on point for the event, but he had fun, too.
"My favourite part was hanging out with people," said Dodds.
And that was one of the main reasons for the tournament – to bring community members together.
In addition to some friendly golf-related competitions, which included an unclaimed $10,000 prize for the first golfer to sink a hole-in-one on a specific hole, players and teams enjoyed catching up with friends and getting to know new ones.
Myke Malone, board chair for Community Living Huntsville, said he and his team had fun swinging their clubs and chatting with other teams. And it was clear to him that his fellow community members were as excited to participate in the inclusive tournament as was his team, given that tournament registrations sold out in less than a month of registration opening.
"It shows that the community wants to support inclusion – and be a part of inclusion," said Malone. "It's about including people with developmental disabilities, and it's about including ourselves, too. Inclusion goes both ways."
Saleem Hall, a representative for Huntsville YMCA Employment and Learning Services, hit the course with his colleague, Emily Denniston, and fellow community members. He said he participated in the tournament to recognize the importance and strength of partnerships between community organizations, like Huntsville YMCA and Community Living Huntsville, and to celebrate the diversity of Huntsville's community.
"It's too easy to 'other' people that you don't know," said Hall. "For me, this event is a fun way to bring people together and recognize that we're more alike than not."
Ed Hammond, event sponsor and co-owner of Refined Kitchen and Bath Muskoka, said greater awareness and support for inclusion of people with intellectual and developmental disabilities is essential to communities like Huntsville.
"When it was brought to me and I could see it with my own eyes, I felt what Community Living was doing and knew we wanted to be a part of it," said Hammond.
It was Huntsville's Got Talent, another sold-out community event hosted by Community Living Huntsville earlier in 2023, that first caught his attention. The event shone a spotlight on stellar local talent with and without disabilities. It also raised funds for Community Living Huntsville's innovative housing initiatives for people with developmental disabilities and families who access its services, and who are most affected by the unrelenting housing crisis.
"We knew we wanted to be a part of Community Living in a bigger way. We did become a sponsor this year," said Hammond. "And events like this? We love to be out here supporting the community, supporting Community Living, and giving back in any way that we can."
Golf Fore Inclusion 2023 raised more than $13,000 toward Community Living Huntsville's housing initiatives, including its Transitional Housing initiative for unhoused young men with developmental disabilities. These initiatives fall outside of the not-for-profit organization's government-funded services and rely on fundraisers, donations, and charitable grants to continue.
Thank you to Deerhurst Resort and our 2023-2024 Signature Event Partners, including Tall Trees, Lovegrove Construction, Muskoka Party Rentals, Stephenson District Lions Club, Dan Willett Financial, and Refined Kitchen and Bath, for helping make this event possible.
Community Living Huntsville is a not-for-profit, registered charity that supports and advocates alongside more than 300 people and families to live, work, and play in unique and purposeful ways in North Muskoka. Learn more at www.clhuntsville.ca. Follow us on Facebook, Linkedin, and Instagram.