Community Living Huntsville supports Salvation Army's Healthy Lunch Box Program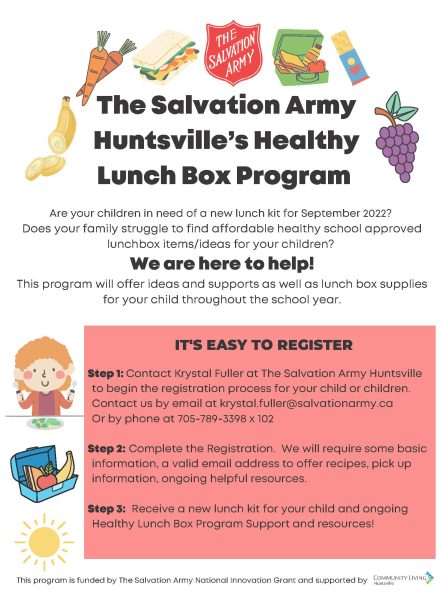 Our team at Community Living Huntsville is proud to support The Salvation Army Huntsville's new Healthy Lunch Box Program! If your child is in need of a lunch kit for the new school year, or your family struggles to find affordable, healthy, school-approved items or ideas for school lunches, this program aims to help.
The program will offer ideas and supports as well as lunch box supplies for your child throughout the school year. It is open to any family with school-aged children in the Huntsville area. It is funded by The Salvation Army National Innovation Grant.
Community Living Huntsville will lend a hand by having one of our team members and a student volunteer assemble lunch supplies for once-a-month pickup, and by contributing easy-to-make recipes as meal ideas for families.
Recipes will come from our team members, community members, and community partners, such as the Huntsville Public Library and the Simcoe Muskoka District Health Unit.
"Our children and youth services team is passionate about making sure that children have what they need to be successful, and healthy food is absolutely critical," says Stacey Bullock, Manager, Children and Youth Services, Community Living Huntsville. "Many families are struggling with rising food prices and the closure of lunch programs during COVID. This program supports a healthier community."
Contact Krystal Fuller at The Salvation Army Huntsville by email at krystal.fuller@salvationarmy.ca or by phone at 705-789-3398, ext. 102, to register your child and family for The Salvation Army Huntsville's Healthy Lunch Box Program. Families will be asked for basic information and a valid email address, so they can receive pickup information, recipes, and other helpful resources.
The Salvation Army Huntsville will start distributing lunch kits and ongoing healthy lunch box program support and resources to families starting in mid-August.
Community Living Huntsville is a not-for-profit, registered charity that supports and advocates alongside more than 300 people with developmental disabilities, and their families, to live, work, and play in unique and purposeful ways in North Muskoka. Our organization celebrates its 60th anniversary in 2022. Learn more at clhuntsville.ca. Follow us on Facebook, Instagram, Twitter, Linkedin, and TikTok.