'I believe in what Community Living does': Huntsville's Marike MacDonald offers 2 paintings for bid in Artists for Inclusion auction
NORTH MUSKOKA – Huntsville artist Marike MacDonald is often inspired by hope – and she has donated some to Community Living Huntsville's Artists for Inclusion.
"Each year I decided to donate to a worthy cause, and I believe in what Community Living does," says MacDonald, a visual artist who works in acrylic or oil on canvas. "I see it as one way I can give back to my community."
The not-for-profit registered charity hosts Artists for Inclusion, an online auction featuring more than 50 one-of-a-kind items donated renowned artists, craftspeople and contributors, from June 14 to 30, 2021. Items are available to view online at the Gala Bid website and registration is now open.
MacDonald, who was raised on a bustling dairy farm in Southwestern Ontario, was always enamoured of rural scenes and nature, and felt passionate about art. She had some natural skill, too, possibly inherited from her father, an amateur folk artist.
But with few formal art courses available to her early in life, and an increasingly hectic schedule as she reached adulthood, it wasn't until one of her children started taking art classes in high school that she re-visited her interest.
"I was envious," laughs MacDonald. "So I started drawing again."
And when one of her children visited home about five years ago, and they picked up paintbrushes together to pass the time, she started to fully embrace art as a profession.
"I haven't stopped since," she smiles.
She notes the pandemic has helped her focus as an artist and solidify her artistic direction.
MacDonald has donated two original canvases to Artists for Inclusion. One is called With Arms Outstretched and the other is called Open Water.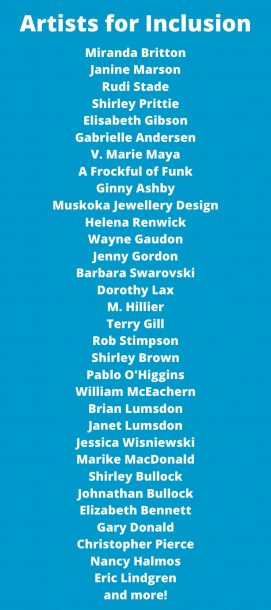 With Arms Outstretched (oil on canvas, 18×24, retail $550) was inspired by a tree in the forest on her property. "I like the tree because it seems to be reaching out in every direction," the artist says. "I had planned to call it 'Hugs' because it is like a mother reaching out to her children to welcome them for hugs."
And she says Open Water (acrylic on canvas, 24×24, retail $575) for her represents hope. "I, as a Christian, feel hope in my life every day, but not everyone does," she says. "So I wanted it to really express the hope that is out there."
There is hope, too, in the work Community Living Huntsville does to support people with developmental disabilities.
MacDonald recalled a person in her own family who would have benefitted from support to overcome barriers in their daily life. "It affected every part of his being," she says. "I can't help but think that, if he had some assistance, his life would have been so different."
And so she appreciates Community Living's commitment to provide supports and advocacy for people with developmental disabilities so each may grow to be the decision makers in their own lives at home, school, work and within the communities of North Muskoka.
"I see Community Living as a safe place for people to get compassionate support, if they want it," she says.
Auction items will be on public display at Community Living Huntsville's Old Stone Schoolhouse, 99 West Rd., Huntsville, as Location No. 7 on the Huntsville Art Crawl, presented by the Huntsville Festival of the Arts, when COVID-19 public health measures allow.
Community Living Huntsville is a not-for-profit, registered charity that supports and advocates alongside people with developmental disabilities to live, work and play in unique and purposeful ways in North Muskoka. Find more at clhuntsville.ca or follow @clhuntsville on Facebook, Instagram and Twitter.