Community Clinic Day for Autism Services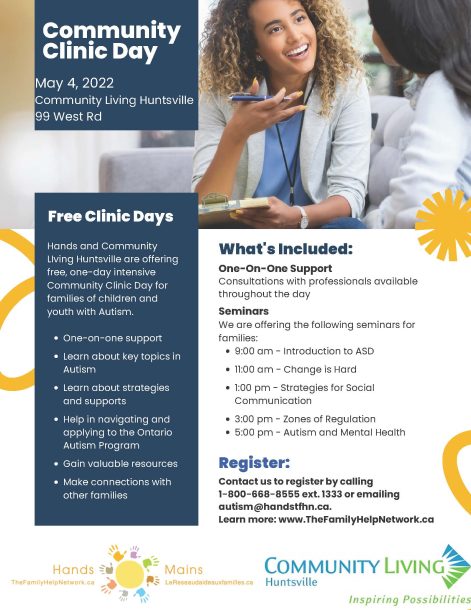 Hands TheFamilyHelpNetwork.ca and Community Living Huntsville offer a free, one-day, intensive Community Clinic Day at Community Living Huntsville's offices, 99 West Road, Huntsville, on Wednesday, May 4, for families of children and youth with autism.
One-on-one support
Learn about key topics in autism
Learn about strategies and supports
Help in navigating and applying to the Ontario Autism Program
Gain valuable resources
Make connections with other families
What's included:
One-On-One Support
Consultations with professionals available throughout the day
Seminars
We are offering the following seminars for families:
9:00 AM – Introduction to ASD
11:00 AM – Change is Hard
1:00 PM – Strategies for Social Communication
3:00 PM – Zones of Regulation
5:00 PM – Autism and Mental Health
To register, contact Hands TheFamilyHelpNetwork.ca at 1-800-668-8555, Ext. 1333, or autism@handstfhn.ca.