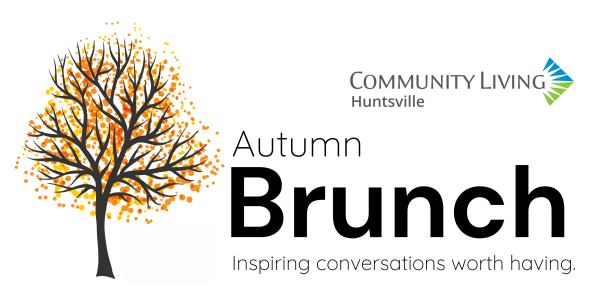 Autumn Brunch 2022
We are excited once again to host our Autumn Brunch and Silent Auction on Sunday, October 2, 2022. Ticket sales have now closed. Thank you to everyone who has purchased a ticket. We look forward to sharing a delicious brunch, silent auction, and inspiring conversations worth having with you!
Guest Speakers
Chris Beesley, CEO, Community Living Ontario
Chris Beesley's commitment to the Community Living movement began in 1994 with the birth of his son, Mitchell, who was born with an intellectual disability. Chris will share his journey with Mitchell and his passion for inspiring possibilities for disability inclusion.

Allison Bobbette, author, singer-songwriter, and inclusion advocate


Allison Bobbette knows from experience that labels do not define a person – and she is driven to empower people with disabilities to achieve their dreams. Allison, an author, singer-songwriter and inclusion advocate, will share her own story of persistence and hope, and her passion for disability inclusion.
Musical Guest
Featured Silent Auction Items
Event Details 
Date: Sunday, October 2, 2022
Location: Grandview Golf Club, 245 Grandview Drive North, Huntsville
Time: 11:00 AM to 2:00 PM
Schedule (this schedule may change):

11:00 AM Mimosa Mingle
11:30 AM Brunch
12:30 PM Speakers
1:30 PM Silent Auction Closes
2:00 PM Farewell

Cost: $55 for adults, $25 for children ages 6 to 12, and complimentary for children ages 5 and younger. Tickets must be purchased in advance.
What will the event support?
Proceeds from this signature event will support Community Living Huntsville's Transitional Housing Initiative for adults we support, who have developmental disabilities and are homeless or at risk of homelessness.
Note: if you are a group of 4 people or more and would like to sit together, please contact Jennifer Jerrett at Jennifer.Jerrett@clhuntsville.ca or 705-789-4543, Ext. 241.
Questions?
If you have questions, or are interested in becoming an event partner, contact:
Jennifer Jerrett
Community Engagement Specialist
Jennifer.Jerrett@clhuntsville.ca
705-380-4153