'I'm not sitting down': Huntsville's Rex Malloy takes COVID-19 one step at a time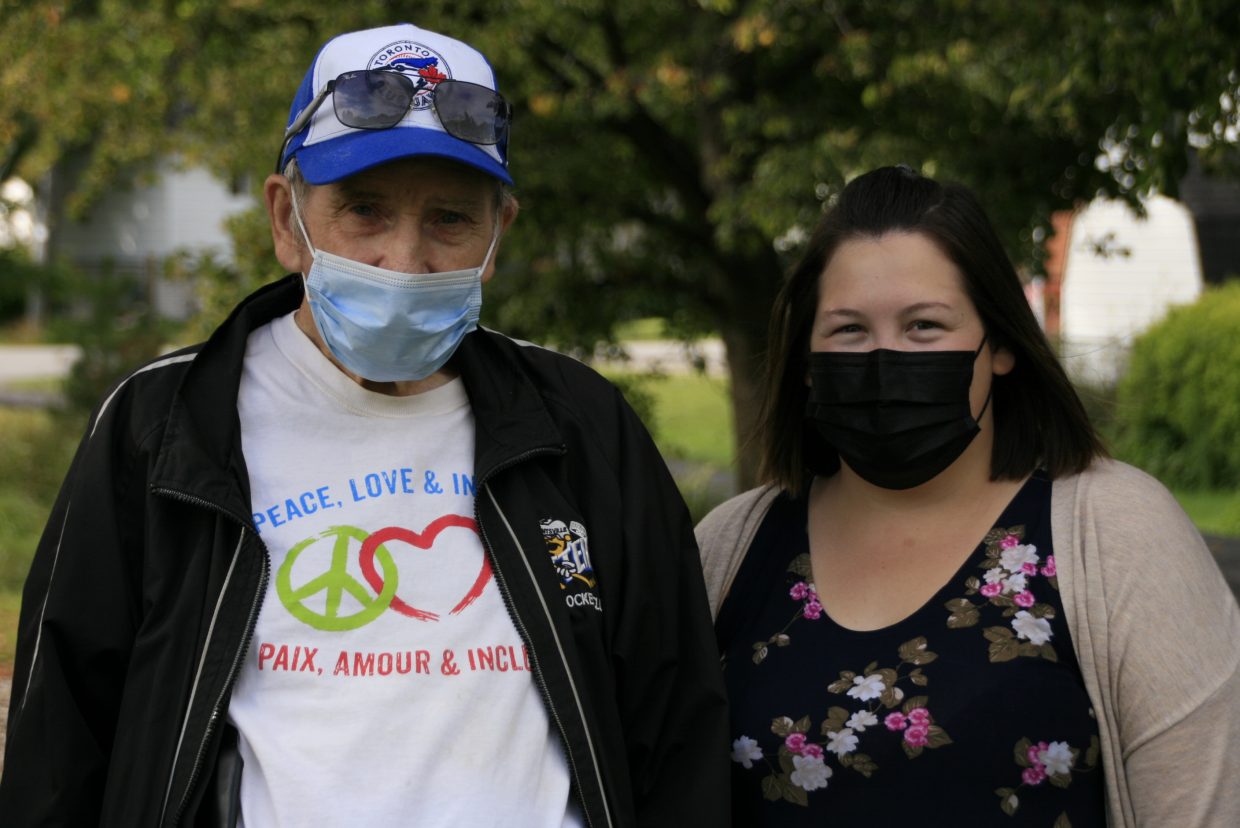 Rex Malloy (left), a Huntsville resident and advocate for people with developmental disabilities, and Kaitlyn Sword, a Direct Support Professional with Community Living Huntsville's Supported Independent Living team, enjoy a walk to a public Huntsville park in September. Photo by Community Living Huntsville.
What has Rex Malloy been doing to keep busy during the COVID-19 pandemic?
"Oh, not too much," the Huntsville resident, 84, smiles.
Rex, like everyone, had his routine thrown off by the public health crisis. A social person who usually meets friends for lunch, hits the links every week for golf, avidly volunteers in his community, travels, and always provides game-day support for Huntsville Junior C Otters games at the Canada Summit Centre, found himself, like so many others, at home.
Public health restrictions, provincial lockdowns, and the isolation they caused left Rex unable to visit his usual indoor community spaces, enjoy meals out with friends, or even pop into local businesses to warm up on cold walks, which meant limits on his usual activities and social interactions.
He remained supported by his Community Living Huntsville Supported Independent Living staff, though, with added support in the pandemic, too. While it was tough at first for Rex, who likes to do things for himself, it did mean he had added support for transportation, at-home meals, connection, and more in the pandemic months.
He also kept in touch with friends during trips to the grocery store, and kept up-to-date with Huntsville Otters news at a distance. But he eagerly awaited the pandemic's end.
In the meantime, he walked.
"I said, 'I'm not sitting down here – I'm going to get up and go for a walk,'" laughed Rex.
Often seen trekking around town even before the pandemic, he kept up his exercise, which aided his physical and mental health through the difficult time.
"When I get home I fall asleep," he smiled. "The fresh air makes you go to sleep."
And while he usually walked to the arena to catch hockey games, lately he has walked into the summit centre to receive both his scheduled COVID-19 vaccine doses.
Now he said he is pleased restrictions have started to loosen. It had meant recent visits to the mall and lunches with his pals, a return to Community Golf at Deerhurst Resort with friends and mentors, and an eagerness to cheer for his favourite local hockey team with fellow fans in the stands.
His mood seemed cheerful – and understandably so as the community seemed poised for a return to its spirit of togetherness and inclusion after a harmful period of isolation that affected so many.
Community Living Ontario presented Rex Malloy with the Jason Rae Leadership Award in 2019 for his dedicated advocacy on inclusion for people with developmental disabilities, leadership, and community contributions.
Community Living Huntsville is a not-for-profit, registered charity that supports and advocates alongside people with developmental disabilities to live, work and play in unique and purposeful ways in North Muskoka. Find more at clhuntsville.ca or follow @clhuntsville on Facebook, Instagram and Twitter.