Community Living Huntsville awarded grant to support "Celebrating Inclusion Through Arts"
Community Living Huntsville would like to thank the Muskoka Community Foundation for the grant to support the project Celebrating Inclusion Through the Arts.
This project intends to bring people of all abilities together for the love of the arts.  Our intention is to be visible at Canada 150 celebratory events.  Through dance and visual arts, we will facilitate the message of belonging in a unique and professional manner as well as providing an opportunity to appreciate each other for our abilities.  All community will be invited to participate in artistic installations and dance performances at scheduled events.  Our mission is to build a truly equal society without barriers to participation.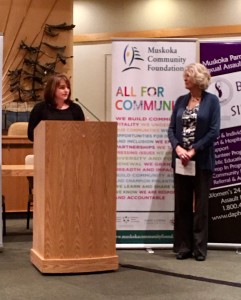 Photo from Muskoka Community Foundation.