Golf enthusiasts learn to golf, make new connections and have a great time
We strive to support people to connect successfully and inclusively to live, work, learn and play in all avenues of their community.
We are pleased to share this incredible connection that has been created where golf enthusiasts have had the opportunity to partner and develop friendships while learning about golf.
Each week a group of dedicated golfers and their friends meet at the Deerhurst Lakeside Golf Course.
The objective of the program is to teach the participants how to play golf, learn about the game and golf etiquette and have fun.
We thank Deerhurst Resort and their fantastic staff for their support over the last 5 years!!!
A HUGE THANK YOU to the golfing instructors for all of their ongoing support and for helping to create such a fabulous connection for all!
In this photo: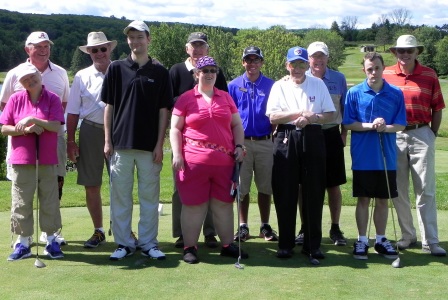 Back Row: Instructors- Ron, Bob, Roy, Zach (Deerhurst Employee), Gary, Rick
Front Row: Participants- Brenda, Ryan, Margo, Rex and Blake