Golf Fore Inclusion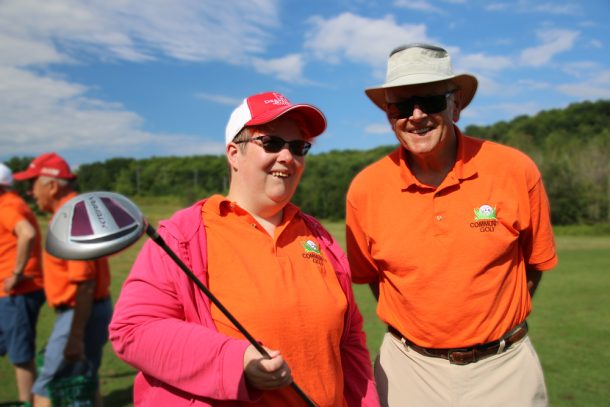 Join us for an un-fore-gettable experience! Community Living Huntsville hosts Golf Fore Inclusion, an all-abilities 9-hole golf tournament, at Deerhurst Lakeside Golf Course on Wednesday, September 14, 2022. Sign up as a single, double, triple, or foursome, and hit the course for fun, community, and a cause! Open to the public!
Registration includes a round of golf, plus a cart, a barbecue lunch, and a chance at some fantastic prizes. Please register by Wednesday, September 7, at 4:00 PM.
Location
Deerhurst Lakeside Golf Course
1235 Deerhurst Drive, Huntsville, Ontario
Date
Wednesday, September 14, 2022
Time
9:00 AM Check-In
10:00 AM Shotgun Start
1:00 PM Barbecue Lunch and Prizes
Funds raised will support our Transitional Housing Initiative for adults we support, who have developmental disabilities and are homeless or at risk of homelessness.
Event Full
We are sold out! Registration for Golf Fore Inclusion 2022 is now closed. Thank you to everyone who has signed up to golf. We are looking forward to seeing you at the event on September 14!
There are still event sponsorship opportunities available. If you would like more information on how to become a 2022 Event Partner, please contact Jennifer Jerrett, Community Engagement Specialist, Community Living Huntsville, at Jennifer.Jerrett@clhuntsville.ca or 705-380-4153.
Questions?
If you have questions, or are interested in becoming an event partner, contact:
Jennifer Jerrett
Community Engagement Specialist
Jennifer.Jerrett@clhuntsville.ca
705-380-4153