Link In! Webinar Series – The Pen Pal Project
Date/Time
Date(s) - May 20, 2021
4:30 pm - 5:15 pm
Categories
Map Unavailable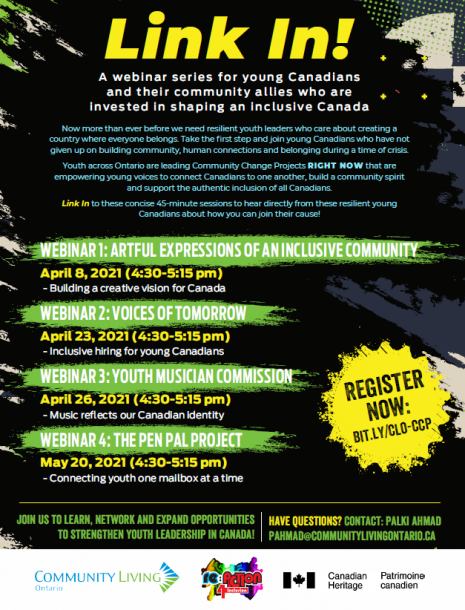 A webinar series hosted by Community Living Ontario for young Canadians and their community allies who are invested in shaping an inclusive Canada.
Youth across Ontario are leading Community Change Projects right now that are empowering young voices to connect Canadians to one another, build a community spirit and support the authentic inclusion of all Canadians. Link In to these concise 45-minute sessions to hear directly from these resilient young Canadians about how you can join their cause!
Your registration includes access to all four sessions, more details below:
April 8 at 4:30 p.m.:
Session 1: Artful Expressions of an Inclusive Community – Supported by Fusion4Inclusion
Join in celebrating the creative vision of young artists who want to share their vision for a more inclusive Canada.
April 23 at 4:30 p.m.:
Session 2: Voices of Tomorrow – Supported by Community Living Essex County and Community Living Windsor
Take part in a community-wide conversation, led by youth, about inclusive hiring for young Canadians
April 26 at 4:30 p.m.:
Session 3: Youth Musician Commission – Supported by Roy Thompson and Massey Hall
You're invited to join this youth-driven community of passionate young musicians!
May 20 at 4:30 p.m.
Session 4: The Pen Pal Project – Supported by Community Living St. Mary's and Stratford Bethel Church
Come hear about a group of youth who are using their mailbox to spark meaningful connections for young Canadians who care about supporting each other through the Pandemic.
Register at bit.ly/clo-ccp