You can learn more about the work of Community Living Huntsville by attending a "Celebrating Inclusion Tour". Through stories, we share the impact of our work and the contributions people with developmental disabilities make in our community.
You are welcome to bring your friends, colleagues or family to our Inclusion Tours. For more information please visit our Facebook Page or Website, or Please contact Michelle Ainsworth at 705. 789. 4543 Ex. 241 or email michelle.ainsworth@clhuntsville.ca
We look forward to seeing you there!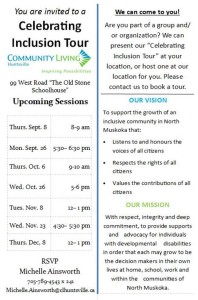 If those dates don't work for you, your family, friends, business, organization, colleagues there are still ways to connect.
There are so many ways we can connect with you and share our "Celebrating Inclusion Tours":
WE CAN COME TO YOU!
Did you know we can take our "Celebrating Inclusion Tour" on the road? If you are a business, service group or organization and would like us to come to one of your team meetings or/ and events please let us know! We will work around your schedule! Email Andrea Johnston at andrea.johnston@clhuntsville.ca for more information
BOOK YOUR MEETING AT OUR LOCATION AND WE PROVIDE THE SPACE, THE SNACKS AND TOUR!
Also, another option is that we can offer our meeting space to your business/ organization/ group to hold your meetings in our "Old Stone Schoolhouse" 99 West Road– we would present for you and provide the snacks and drinks and then leave so you can continue with your meeting!! Free of charge! We will work around your schedule and our "Old Stone Schoolhouse" pre-bookings.
Contact Michelle Ainsworth at michelle.ainsworth@clhuntsville.ca for more information.
ATTEND ONE OF OUR CELEBRATING INCLUSION TOURS AT 99 WEST ROAD!
You are also welcome to attend one of our "Celebrating Inclusion Tours" that we host at 99 West Road:
All member of our community have the capacity to get involved and join the community living movement with Community Living Huntsville. From choosing a career with our agency, volunteering your time, employing people with developmental disabilities, becoming a member, and making a donation there are many way in which each citizen may positively impact the life of a person with a developmental disability.
For more information please email clh@clhuntsville.ca