Valentine's Dance on Tuesday February 13, 2018
February 2, 2018
Posted in: Uncategorized
---
Are you looking for something fun to do with your family? Come on out to a Valentine's Dance on Tuesday February 13, 2018 at the Royal Canadian Legion on Veterans Way in Huntsville, Ontario. The dance starts at 6:30 p.m. and runs until 9:30 p.m.
The cost is ONLY $5.00 and it is sure to be a great time!
This is a family friendly event.
See poster for details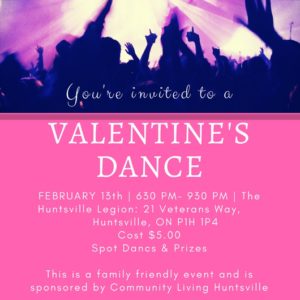 ---