Huntsville High School Students are Keeping it Real
November 13, 2017
Posted in: Uncategorized
---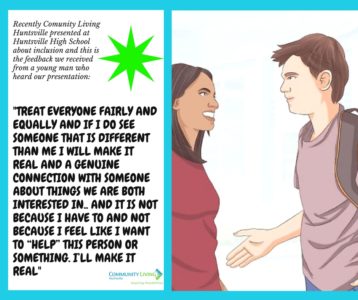 Recently Comunity Living Huntsville presented at Huntsville High School about inclusion and this is the feedback we received from a young man who heard our presentation!
"Treat everyone fairly and equally and if I do see someone that I think is different than me I will make it real and a genuine connection with someon eabout things we are both interested in….and it is not because I have to and not because I feel like I want to 'help' this person or something. I will make it real"
Contact michelle.ainsworth@clhuntsville.ca or phone 705. 789. 4543 Ex. 241 for more information or to learn more about Community Living Huntsville's Celebrating Inclusion Tours.
---