FIND YOUR WILD! Free event for PA Day- October 6, 2017
September 12, 2017
Posted in: Uncategorized
---
PA Day on October 6th 2017
Need something to do with the children??
Come out and join us at FIND YOUR WILD!
This is a FREE EVENT!
83 Morgan's Road, Huntsville, ON, P1H 1A2
Friday, October 6th, 2017
Wilderness Scavenger Hunt
From 1:00-3:00
Use your observation skills to find an alphabet full of natural items. From animal scat to zig zag tracks, the list is widely varied and will give your group a load of fun.
Skulls N' Such
From 3:00-4:00
Learn the keys to skull identification, use the clues to ID the specimens. Then hear the stories associated with each animal as the answers are revealed.
Please join us for a camp fire and some treats at the end!
For information please contact Stacey Bullock at (705) 789-4543 ext 215 or at Stacey.bullock@clhuntsville.ca
OR Check out Find Your Wild's website at www.findyourwild.ca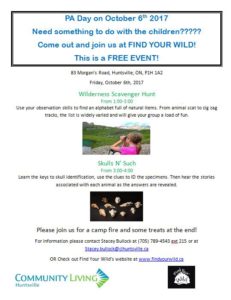 ---